6 min read
Welcoming the New Year in the Security Industry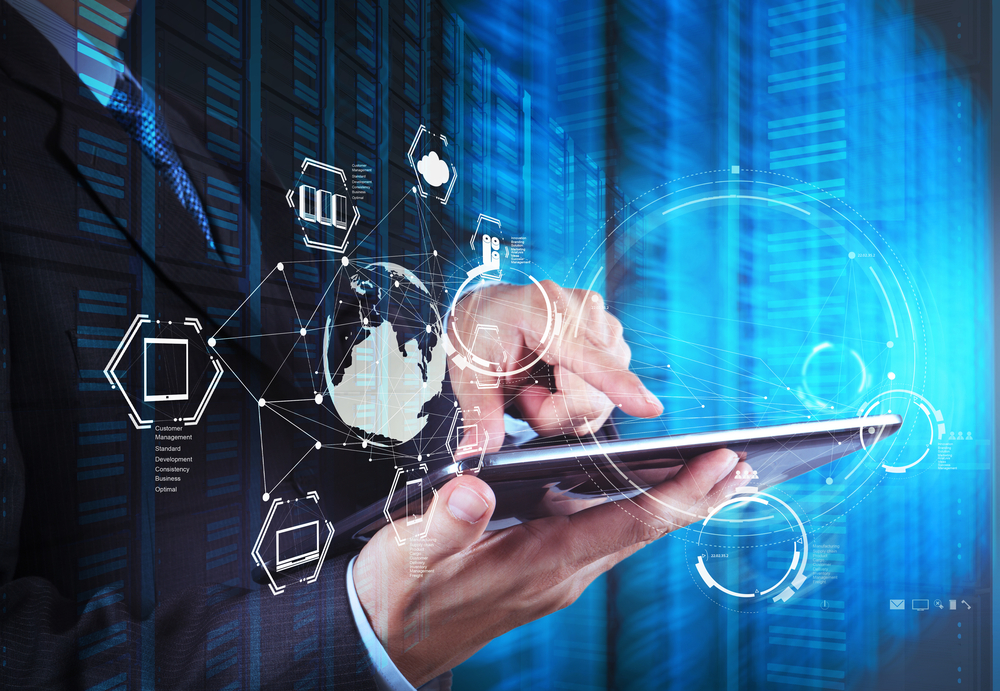 What factors impacted physical security in 2021,

and what can we expect to see in 2022?
As the world continues to navigate new challenges brought on by COVID-19 and its impact on the economy, business behaviors, and changing priorities, how has the physical security industry been impacted, and what can we expect going forward? Here are some of the most important trends and factors as we reflect on 2021 and look ahead into 2022.
Top

Trends
Hosted Solutions
The high-level trend contributing most to the growth of the physical security industry is the increasing interest from clients to investigate hosted solutions. These solutions allow physical security providers to offer ongoing services in the form of hosting, which changes the structure and adds the potential for recurring business from an integrator standpoint.
From the client standpoint, hosted video and access control allows for better convergence of physical and cybersecurity. IT departments at companies across various industries are looking for better ways to manage devices, and to minimize devices on corporate networks. There are hosted solutions that allow end users to isolate devices, which is increasingly attractive to building managers and IT departments. At the end of the day, the more critical elements you can keep off of your corporate network, the better you can manage your cyber risk.
Plus, from a physical security standpoint, hosted solutions allow organizations the option to scale and shift without having to coordinate costly new hardware at every location. Hosted options allow for streamlined expansion, more efficient and effective staffing even among various locations, and quick response times. These solutions are changing the way organizations can store, integrate, and scale in line with their security needs.
Hosted solutions for access control and video surveillance are still in early phases of acceptance across the board. However, it's not hard to see how this trend toward hosted security might pick up major speed in 2022. Right now, more than 90% of Fortune 500 companies have critical information online in the cloud. As these big players move to hosted solutions in other aspects of their businesses, like emails and critical data, it only makes sense to move there with physical security as well.
In the past, the physical security industry has sometimes been slow to catch up with the technology practices that have already spread through other operations, but the pandemic accelerated this trend toward hosting in particular. Hosted access control isn't necessarily the best solution for every type of company, but since big companies are looking for it, we know it's going to be relevant in the future of the market.
Camera Updates
Another high-level trend contributing to growth in the physical security industry is the need to update cameras as they reach the end of their functional life. While analog cameras have been around for decades and upgrades used to be rooted in a need for better function and resolution, IP cameras require quicker swaps in order for the system to meet NDAA compliance requirements. As their OS ages and their firmware require updates, these cameras need to be updated. As physical and cybersecurity have increasingly overlapped, the required level of security for security cameras has changed. We're not just looking at whether cameras are still functional, but are also aiming to ensure annually that those cameras are still meeting the client's cyber risk needs.
VSaaS
Especially as hosted solutions continue to grow in popularity, physical security integrators will see increasing demand for VSaaS. VSaaS will have the biggest future impact on the market as a whole because it's accessible to companies at every size and growth stage. Organizations can spread the cost of ownership per camera, which feels like a no-brainer for the trade-off of not having to buy all of the equipment or worry about backups in-house.
Purchasing video security as a service means everything is backed up in enterprise-level data centers. Plus, with the switch toward remote work, most companies are already hosting important data like emails online, so the push to video services isn't too far. These solutions allow companies to focus on the operations that generate revenue, without sacrificing the security measures to keep themselves and their clients safe.
Top Challenge:

Supply Chain Issues
Despite the many exciting and promising trends 2021 brought to the security world, this year, delivery and supply chain challenges have been more impactful factors than technology and software. The largest impact COVID-19 has had on the video industry is its damage to the supply chain and product availability. There has been a great strain on manufacturers' and integrators' ability to deliver, so even for providers whose sales are going well, the overall life cycle of each project has been prolonged.
For example, it's quite common to have projects that began in June and didn't receive their specialty cameras until October, or worse. Some supplies are delayed month after month, leaving integrators without the product needed for their clients. This is an issue across the industry, and this problem of not being able to fulfill orders quickly just means there's a push to find creative solutions.
Some companies have chosen to standardize on product with specific manufacturers, which poses its own issue as security providers try to troubleshoot. To get around this, integrators need to have multiple product lines so that if one is severely delayed, they are able to offer the client options if they are willing to take their project in a slightly different direction.. This way, projects can continue as quickly as possible while still meeting industry standards.
Supply chain issues have left many security companies still scrambling to deliver on projects sold in Q3 of 2021, even after searching for creative solutions and spending time troubleshooting. Many projects simply require specialty equipment, like fisheye cameras, that can't be supplied yet but also can't be substituted without sacrificing the integrity of the overall project.
Predictions

for 2022
Ongoing Supply Chain Woes
Overall, how the security industry moves forward in 2022 will depend on what hardware is available as future projects arise. It's unlikely that the supply chain issues will get much better before Q2 of 2022, since there's such a vast backlog which leaves suppliers and providers playing catch-up. These issues might push the introduction of new workarounds and creative solutions, but more than likely, they'll simply delay projects for at least a few more months as the year kicks off.
COVID-19 Solutions
In order to mitigate the spread of the COVID-19 virus, many offices have begun to implement creative solutions around contact tracing, avoiding physical contact, and distancing. In order to do so, companies are leaning on the latest technology more than ever before. Contactless access control protocols, video analytics that support counting individuals per square foot, and pinpointed data to help contact tracing and spacing efforts have all grown in importance in 2021.
COVID-19 has created additional uses for video other than its usual straightforward applications for access control and security monitoring. For example, a company may hope to keep their branches open during periods of high transmission, but without as many people onsite as usual. Video can help track and manage how many people are in an area at any given time and how far apart they are spaced so that building managers can plan for specified protocols that will keep staff and customers safe.
The need for these solutions is unlikely to dissipate in 2022 as new variants and ever-changing guidelines continue to sweep the U.S. Companies can remain open and flexible through each change with these technological advances, keeping their staff and clients safe while also staying compliant with local regulations.
In the last few years, we've all learned to expect the unexpected. While supply chain issues, material shortages, and ever-changing regulations have presented challenges for the physical security industry, the innovation and creativity has never stopped. Trends in hosted solutions with a focus on VSaaS, and COVID-19 analytics promise an exciting future for the industry.
If you're looking to update your company's security for 2022, get in touch with us today!